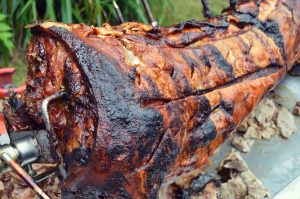 Everyone loves a hog roast. There is something special about the taste of the succulent pork that the spit roasting method produces. People love it whether it is served in rolls, with a sauce and stuffing, or as part of a carvery or cold buffet. We have been cooking this special dish for many years, so when you hire the Hog Roast Ennis team you know that you are going to get perfect party food produced by experts.
We make everything using only the finest, locally sourced, ingredients. All of our chefs and catering assistants are professionally trained, to make sure that you get the best service possible and that everything is cooked to perfection.
A Hog Roast For Your Special Celebration In Ennis
The majority of our customers still want to have a spectacular hog roast as the centrepiece of their feast. People love to see the hog turning on a spit and enjoy eating the meat especially if it is served in soft rolls with the traditional trimmings of stuffing or applesauce.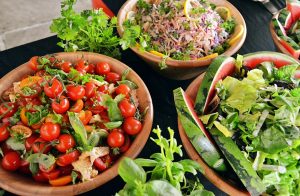 In addition, we also offer a range of other barbecued and spit roasted meats. A large roasted hog will easily feed 80 people, but it is always nice to be able to give your guests a choice. Spit roasted turkey, lamb, chicken, gammon or beef all taste fantastic.
You can easily cater for the vegetarians in your group by choosing to have some of our salads and vegetable dishes served as part of a buffet or carvery. Our team will cook what you want and, if you need them to, will even serve it to your guests at the table. That option is ideal for a formal event or wedding. We also offer a range of canapés, sauces, desserts and other side dishes.
Cooking Your Own Spit Roasted Meats
If you prefer, the Hog Roast Ennis team can show you how to cook your own spit roasted meats or hog. You can lease a professional hog roaster from us, which we will also clean once you have finished with it.
To take advantage of our service all you need to do is to ask us for a quote.