Your Irish Hog Roast Caterer
Planning a celebration in Ireland? Based in the heart of Southern Ireland, we are the leading Irish hog roast caterer and have been for over two decades. Spectacular food, exceptional presentation and wonderful customer service are at the core of what we do; we are here to help you have an unforgettable special occasion, whatever milestone you are celebrating. We have provided hog roasts for birthday parties, weddings, christenings, anniversaries and corporate dos – to name just a handful of events.
If you're looking for a delicious yet traditional method of catering, hog roast catering in Ireland is something that appeals to party goers young and old. This simple cooking method is steeped in history and is known for its tender and juicy results, whether you choose a whole hog or another joint of meat.
Hog Roast Catering For All Sizes Of Event
Our experienced chefs and hog roasting staff have travelled far and wide with our catering services, delivery high quality cuisine to their fellow Irishmen and beyond. Whether you wish to choose one of our proven catering packages or you need something a little more unique, tailored specifically to your tastes – they are there to help. While a hearty hog is the obvious choice, we've had customers looking to source meat of a different ilk. Meats including Alligator, Wildebeest and Ostrich! We take painstaking care when creating our menus, to provide the best choice to our customers.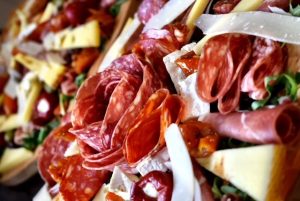 We have a range of innovative hog roasting machines to choose from, too many to list. Our machines allow us to cook indoors and outdoors, so you have maximum flexibility for your events. We can set-up in a grand banquet hall or we can set-up in a cliff-top gardens.
Get ready to delight your guests, at Hog roast catering Ireland we take the hard work out of event catering. We know how difficult it can be to organising a special celebration, whether you're holding an intimate family party or a huge wedding reception – there's a lot to think about. Don't let the food be a hassle. Our service includes set-up, cooking and even clearing away after. Once we're booked you can forget about hungry guests and let us make sure they are well fed – you can sit back and enjoy the delicious dishes on the day too.
When we look back through our events logbooks, we are always shocked and delighted at the number of occasions we have attended! It's such a joy to cater such a diverse range of parties and gatherings. Over the years we noticed that Ireland was left with very little choice when it came to tasty event catering with efficient service – rarely were parties able to find a service that would match the standard people were looking for, for both formal and informal events. Event organisers were settling for 'acceptable' food rather than expecting something 'sensational'. You don't have to anymore!
Hold Your Own Ireland Hog Roast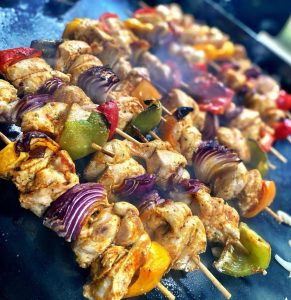 All our meat is sourced from organic sources wherever possible and support local businesses where we can too. We know that better ingredients mean better food. At Hog Roast Catering Ireland, we believe that with the right produce the hard work is taken out of creating great dishes. We have stood by this mentality for over twenty years. As well as succulent roasted meats, we can provide all the side dishes and salads you would like to accompany your hog roast. We can create side dishes that stun just as a main dish should. Let's make your event lunch or dinner a real feast.
Don't fancy the idea of external staff at your event? Ireland's hog roasters understand that some families and friends would prefer a private event where they can get on with the catering themselves. This is where our hog roast machine hire can be the perfect solution. We will arrive at your venue, set-up and show you how to use our machines. We will then collect when you are done!