If you are planning a Hog Roast in Drogheda, please get in touch. We have been providing party and event food in the area for over 10 years. Our team of experienced chefs are ready and waiting to take away all of the stress of catering for your guests.
A Fantastic Choice Of Meats And Other Party Foods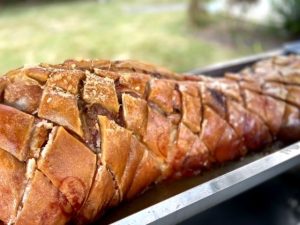 For most events, we are still asked to provide a hog roast. This is in part because the tender pork and crackling can be served up in a variety of ways. We will happily serve it the traditional way with stuffing and apple or barbecue sauce in soft rolls. However, it is also nice sliced up and presented alongside steamed vegetables and a potato side dish. You can also let us plate up the food and have your guests served at the table or we can set up a carvery style buffet for you.
The modern spit roasting machines that we us allow us to cook any meat to perfection. Currently, we offer our clients a choice of spit roasted turkeys, gammons, chickens, beef joints or lamb. We are also willing to cook meat that you provide, should you want us to. It is also possible to order barbecued meats from us.
As you can see, there is plenty of choice, which makes it easy to cater for your guests regardless of their tastes or preferences. There are numerous vegetarian options on the menu as well as canapés, sauces, breads, gravies, salads and desserts.
Once we have received confirmation of your order you can relax. We take care of everything from that point onwards.
Cook Your Own Hog Roast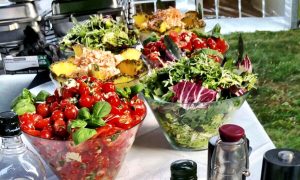 However, at Hog Roast Drogheda we are mindful of the fact that some people enjoy doing the cooking themselves. Therefore, we also offer you the chance to hire a spit roaster from us, which you can use to cook your own meats.
Ordering your party or event food from us is easy. All you need to do is to fill out the form and we will get in touch, in no time, to give you a full quote.