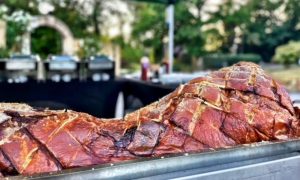 Whether you are organising a family celebration, an important corporate event, or a wedding you want to make sure that everyone is well fed. Unfortunately, doing that is not easy. There is just so much to think about and do. As a result, organising the catering for any event or party is a hassle. However, if you hire the Hog Roast Athlone team it need not be a big problem. Over the years, we have provided the food for all kinds of events, and can do the same for your special party.
A Fantastic Hog Roast Athlone Menu
We specialise in hog roasts, but can actually spit roast any type of meat for your corporate event, wedding or party. The sight of a row of whole turkeys turning golden brown on a spit is just as impressive as a hog roast. We offer spit-roasted beef, lamb and chicken as well as the option to have sausages, kebabs and burgers cooked barbecue style.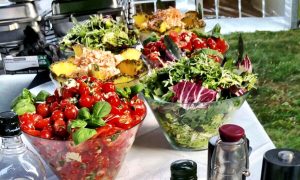 Our experienced chefs cook everything in front of your guests, which provides a spectacular backdrop for your party feast. They will also happily prepare a range of side dishes.
On our extensive menu, you will find canapés, salads, vegetable dishes, breads, gravies, sauces, desserts and sides that are suitable for any event. We make sure that everyone's tastes are catered for including those with special dietary needs and vegetarians.
Cook Your Own Spit Roasted Meats
Our service makes catering for your event extremely easy, but if you prefer you can do the cooking yourself. All you need to do is to hire one of our spit roasting machines. On the day of your party, a member of the Hog Roast Athlone team will deliver the spit roaster to your venue, and show you how to use it.
To find out more all you need to do is to fill out the quote form on this site. As soon as you confirm your order, you can relax and let us take care of everything from then onwards. It really is the easiest way to cater for any event or party.